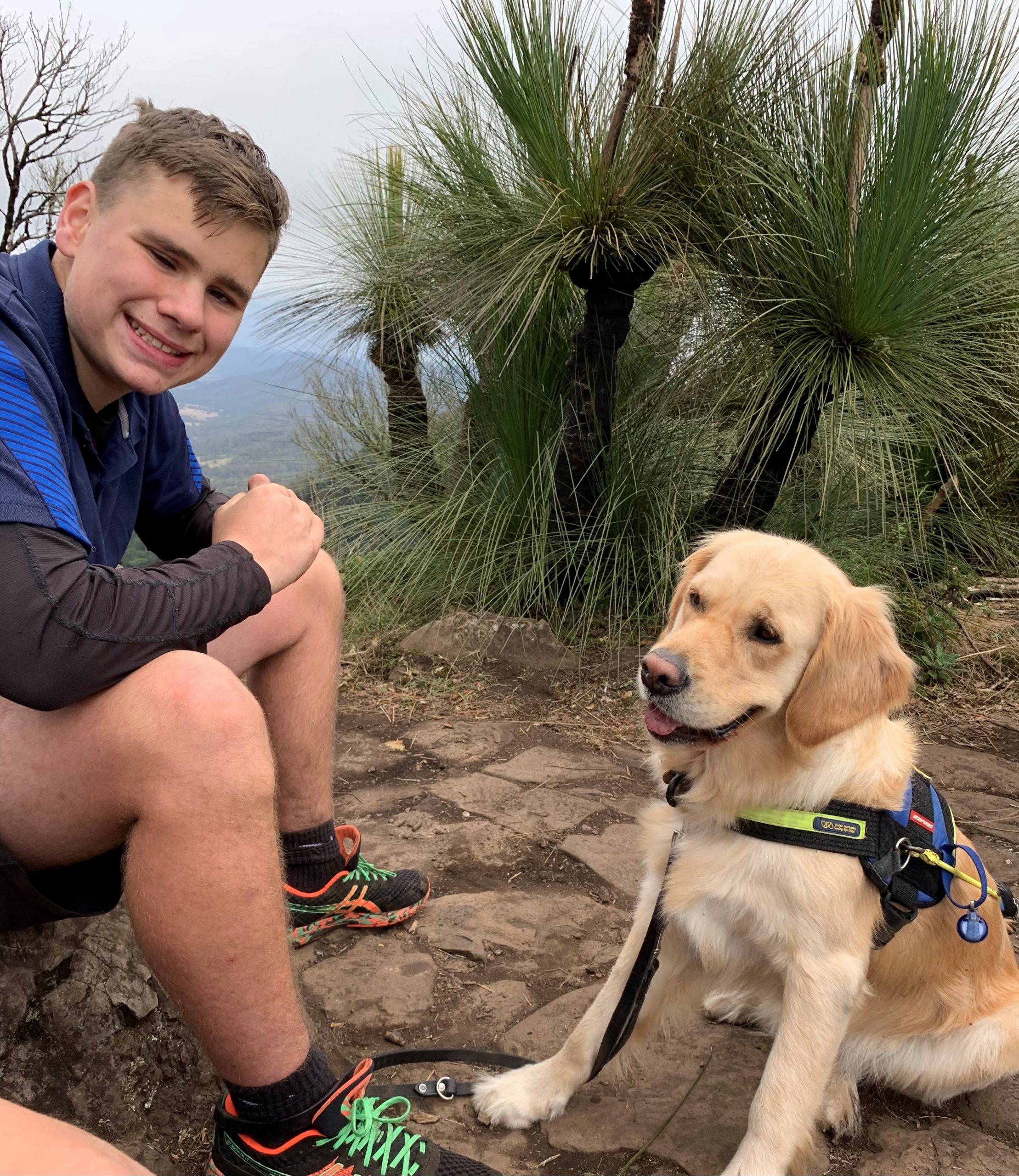 Oliver Fanshawe
In February this year, Oliver from Brisbane became the youngest person in the country to be given a Seeing Eye Dog, Sadie, by Vision Australia at 14-years-old. His mum Melissa says, "Sadie has been amazing for Oliver."
Oliver's family immediately knew about his vision impairment as soon as he was born. As he was weighed and checked, the doctors noticed right away that he was not responding to light. Oliver was then diagnosed with Peters Anomaly and when he was 9 days old, he underwent corneal graft surgery but they were not able to save his right eye. Oliver had clouding of the left eye until he was 6 months old when some vision slowly returned but it was still low vision, at 6/60 and his parents were told he was legally blind.
Oliver's Last Seen image is of a family trip to the Grand Canyon one Easter when he was 9 years old. He was losing his vision rapidly and his parents were keen to take him to America to go to Disneyland and see some of the famous tourist attractions including the Grand Canyon. During the warm and sunny day, they all walked around the top of the Canyon. As they looked at the different colours of the Canyon from the various viewing platforms, a little raccoon accompanied them wherever they went. The two main colours that stand out for Oliver are orange and brown. The trip will also be remembered for another reason, Oliver lost three white canes; one fell in the river, one got snapped at Disneyland and the other didn't end up back on the return flight.
Just before Oliver's teenage years there was further deterioration of his sight. Today Oliver can only see up to about one metre away. He can read if it is really close, but he has to focus especially as his eye shakes. He uses voice over on iPad and Apple iPhone as well the Focus 40 which is a refreshable Braille Display.
Oliver is a keen athlete and has won 5 national medals for sport; in swimming, athletics for shot put and bronze, silver, gold for goalball, a Paralympic sport for athletes who are blind or have a vision impairment. He has also just started a part time job at the local IGA grocery store.
If you managed to watch Channel 7 in late July as it was announced Brisbane was to host the 2032 Olympics, you may have seen Oliver being interviewed. He commented that by that year, he will be 25 and the prime age for goalball. With his impressive sporting achievements to date and his determination, we have no doubt we could well be watching him in the 2032 Paralympics.
Artist
Gary Myers
Gary's paintings mirror a lifetime journey by an artist exploring a wide spectrum of subjects and depicting them with the emotion he feels towards them.
Gary has held over 50 successful one man shows from Shanghai, China to Brighton, England to every East coast Australian Capital city.
Along the way he has attained many prestigious awards.
Exhibiting with a select number of galleries, he is also currently exhibiting as a Kevin Hills Top Ten Australian Artist.
Gary has been commissioned for major corporate works and is a guest tutor with Sydney Art School.
Gary is a long-time resident of Maleny in the beautiful Sunshine Coast hinterland, where he has his studio/gallery.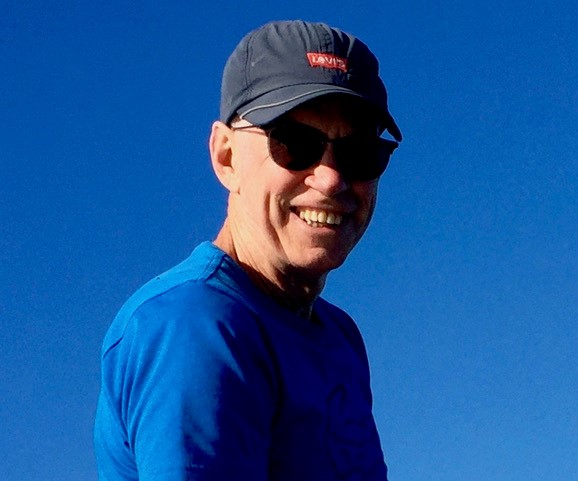 Composer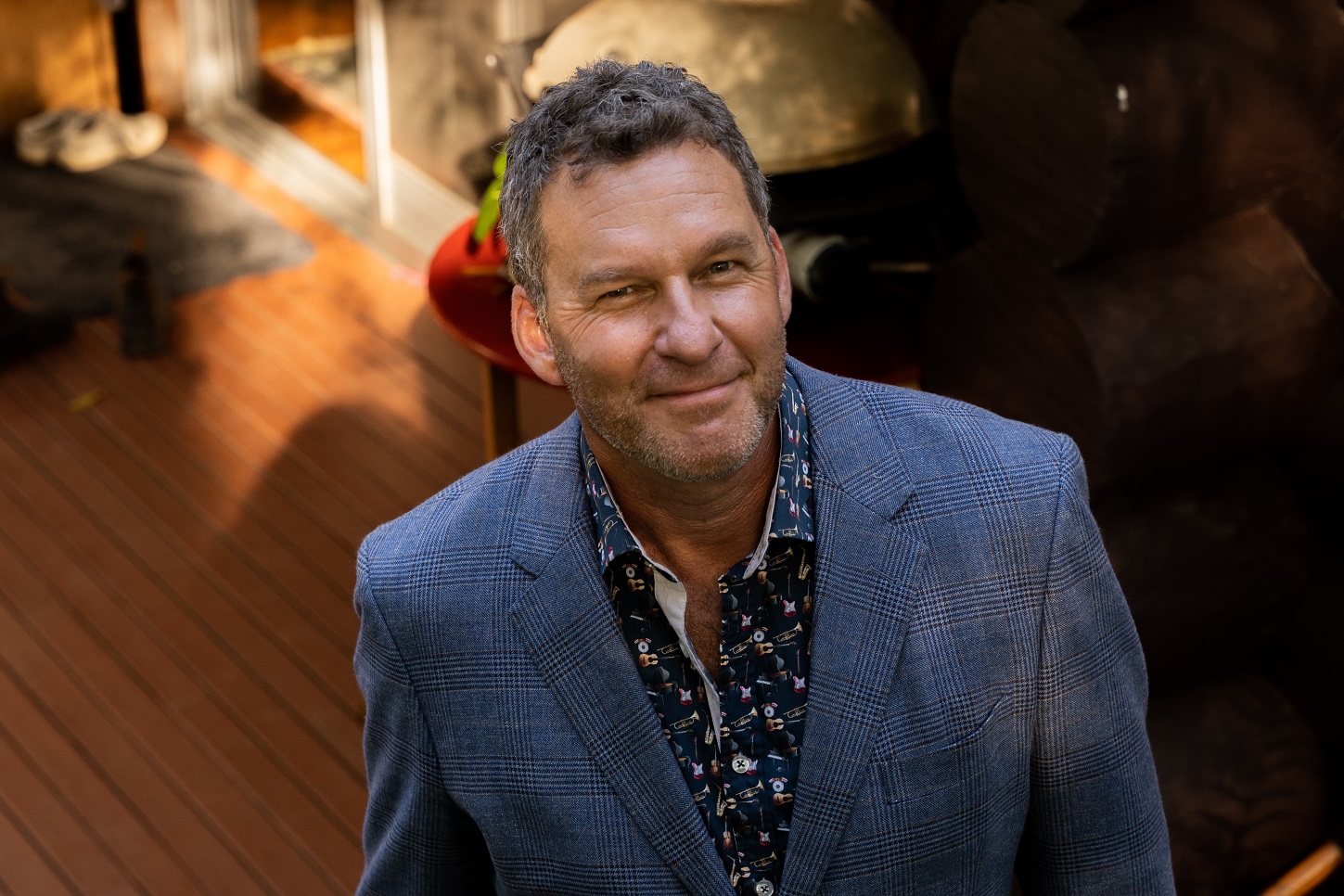 Paul Jarman
Paul Jarman is a widely acclaimed Australian composer, performer, musical director, conductor and educator. His music has inspired singers and audiences around the world. As a cultural ambassador he has performed extensively throughout Australia, Europe, Asia, North America and the Pacific in over 40 countries with theatre productions, dance ensembles, Aboriginal-Anglo Celtic performance groups, choirs and orchestras; in festivals, special events, schools and towns as a
conductor and musical director, and a member of Australia's first 'world music' ensemble Sirocco since 1996 representing Australia in Pakistan, India, Taiwan, Nepal, Sri Lanka, Malaysia, Laos, Vietnam, Singapore and the Philippines for the Department of Foreign Affairs and Musica Viva. He has also performed on many Australian feature films and television series and composed the music to award winning adventure documentaries by renowned cinematographer Mike Dillon, including 'Ocean to Sky', a film to honour the 100th Anniversary of the birth of Sir Edmund Hillary in 2019.
Paul specialises in writing about inspiring people and events including Jessica Watson, Terry Fox, Helen Keller, Ernest Shackleton, Aung San Suu Kyi, Malala Yousafzai, Frank Hurley, Pemulwuy and Mary MacKillop among many others. In 2010 his piece for the 40th Anniversary of the death of Martin Luther King Jnr was performed for President Barack Obama in the White House. Paul has also written and performed music for events in the Western Front, including the D-Day 60th Anniversary in Normandy and a new piece for the Centenary of the Battle of Fromelles 2016. Paul was the only composer in the Southern Hemisphere to be asked by Oxford University Press to be part of a selected group of 7 composers commissioned to write a piece for the 400th Anniversary of the death of William
Shakespeare in 2016.
He has toured with choirs to France, England, Germany, Austria, Italy, China, Belgium, Czech Republic, Canada, New Zealand, USA and Switzerland and he conducts choral events all over Australia. He is a regular conductor for the Gondwana Choirs, Australia's leading choral organisation. Paul has composed the music for some of Australia's special events including the Centenary of Federations, the Bicentenary of the Battle of Vinegar Hill, Year of the Outback, The Olympic Arts
Festival, The Rugby World Cup Opening Ceremony, United Nations Year of the Mountain, The Queensland 150th and the Australia Day Spectacular. To date Paul has written over 170 commissioned choral works and has contributed another 100 school and town anthems.
Paul has recently composed music for the Gondwana Voices 30th Anniversary, the Centenary of the birth of Sir Edmund Hillary, Festival of Voices Hobart, the Western Australian Choral Festival and a new piece for Sydney Grammar about the cave rescue of the Wild Boar Soccer team of Thailand. In 2020 Paul wrote over 12 new commissions and work in Burma, Korea, China, Singapore and all over Australia as an artist in residence and guest speaker.