Santiago moved from Colombia with his parents and younger brother in 2009. After finishing school, Santiago then went on to study a Bachelor of Engineering at QUT, set up two companies. In addition to being a UN panelist, TedX speaker and entrepreneur, he also participated in the Kokoda Challenge and Oxfam Trailwalker.
At just 25 years old, Santiago is the CEO of two companies; EyeSyght and Hailo. EyeSyght is developing technology to enable vision impaired individuals to be able to feel maps, pictures and graphs. Hailo is focused on using technology to improve accessibility of public transport for all especially those with vision impairments. Santiago wants to ensure that people with disability are better included within the community and as a result it will significantly increase their chances of employment and full independence.
The family moved half way across the world as Australia had better long term options for Santiago with his vision loss as well as more options to study for both Santiago and his younger brother. So at age 12, Santiago and his brother started school in Australia, began to learn English and settled into Australian life.
Santiago was born with vision loss. When Santiago was younger he had more vision and over time, he will lose all the remaining vision he has left. He has glaucoma, Sclerocornea and Microphthalmia. Currently has about 1-2% vision in his right eye and no vision in his left eye. In his right eye he can see colours and shapes as well as objects that are very large within a certain distance from him and in perfect lighting. Santiago reads braille and uses a guide dog in his daily life. He uses a range of screen reading software including Narrator, JAWS, PDA for Windows and VoiceOver on Mac and other programs when coding. He used to use a white cane before his guide dog.
Last Seen image
Santiago's last seen image was when he was about 9 years old, biking with friends within the gated condominium complex where he lived in Colombia. The apartment buildings, made of orange brick were four and five stories high surrounded by pathways, high trees with a pool within the complex and a car park at the far end. The stones of the pool edges were made of a deep red brick. Santiago recounts there was a lot vegetation next to the paths and greenery within the grounds. He remembers the sounds of his friends and him laughing and being so carefree with no one caring about his vision impairment. He would spend many holidays and weekends just biking 3-4 hours and enjoying being outside. At that time Santiago had 6/7% vision; enough vision to ride a bike by himself. Today he uses a tandem bike.
As he describes, "The bike is my last seen image as it was my last time to be fully free as I didn't have to walk slowly to check out the surroundings as I do now. Before 9 years old I could bike relatively quickly as I could see people/movement approaching me. I could feel the wind and feel the bike and the road and not have to worry about not having sufficient vision. I wasn't tied to a primary orientation mobility aid (such as a guide dog or white cane) or limited to walking slowly."
He continues, "The bike was blue and the cross bar was silver and I remember the gear selectors were black like the handles. At the time, it didn't mean anything, it was just my bike but now I remember the details of the bike and it means something. On that day I remember it was sunny. When I lived there, I would get up early, look out my bedroom window and see the sun through the trees."
Describing the complex, Santiago adds, "There was a ring road that went around the buildings with 10 – 15 metre tall trees in and outside of this road. The buildings were an orange brick and the paths were grey; a lighter colour than asphalt. The paths were 2 metres wide and on either side of the concrete path, about 5-10 cm from the edge were red bricks."
When asked about smells associated with this image, Santiago explains that it was one of the few places you didn't smell much because at the front of complex was a suburb and then on other sides there were tiny creeks and forest so there was lots of nature and clean air. There was a cool smell with the humidity. In the evening, it went down to 15/16 degrees and up to 26/27 degrees during the day.
Focusing on developing technology to help others with vision impairment, Santiago's drive and ambition comes from his belief that disability and ability should not define you. Having lived in a developing and developed world, Santiago knows that society needs to be more inclusive.
Outside of running two companies, Santiago kayaks, takes part in tree top challenges and relaxes with friends. He also enjoys reading, playing and listening to music, traveling and learning about history.
Artist
Kathleen O'Hagan
Kathleen O'Hagan is a Brisbane-based emerging artist. She graduated from a Bachelor of Visual Arts (Honours) at the Queensland College of Art in 2021. In 2016, her drawing, In the Zone, was exhibited in Gallery of Modern Art (GOMA), as a recipient of the Creative Generations Excellence Award in Visual Art. She was one of 33 students selected for the award, from almost 200 schools and 522 nominated students across Queensland. Her artist residency, alongside art students and staff at Northside Christian College, resulted in her first solo exhibition, "Joyful Creation" in 2018.
In her graduate year, her work was displayed in the invitational exhibition, "Undergrowth" at the Webb and Machinery Street Galleries, showcasing "some of the most innovative work" of QCA's undergraduate students. Her co-authored paper, "The Veil in Art School" was presented alongside her mentor Dr William Platz at the Sixteenth International Conference on The Arts in Society, University of Western Australia, June 16 – 18, 2021. She was awarded funding to support this research by the Griffith Honours College Research Bursary the previous year. Her upcoming solo exhibition, "I am there only when I appear" will be displayed in the Grey Street Gallery, QCA in January 2022.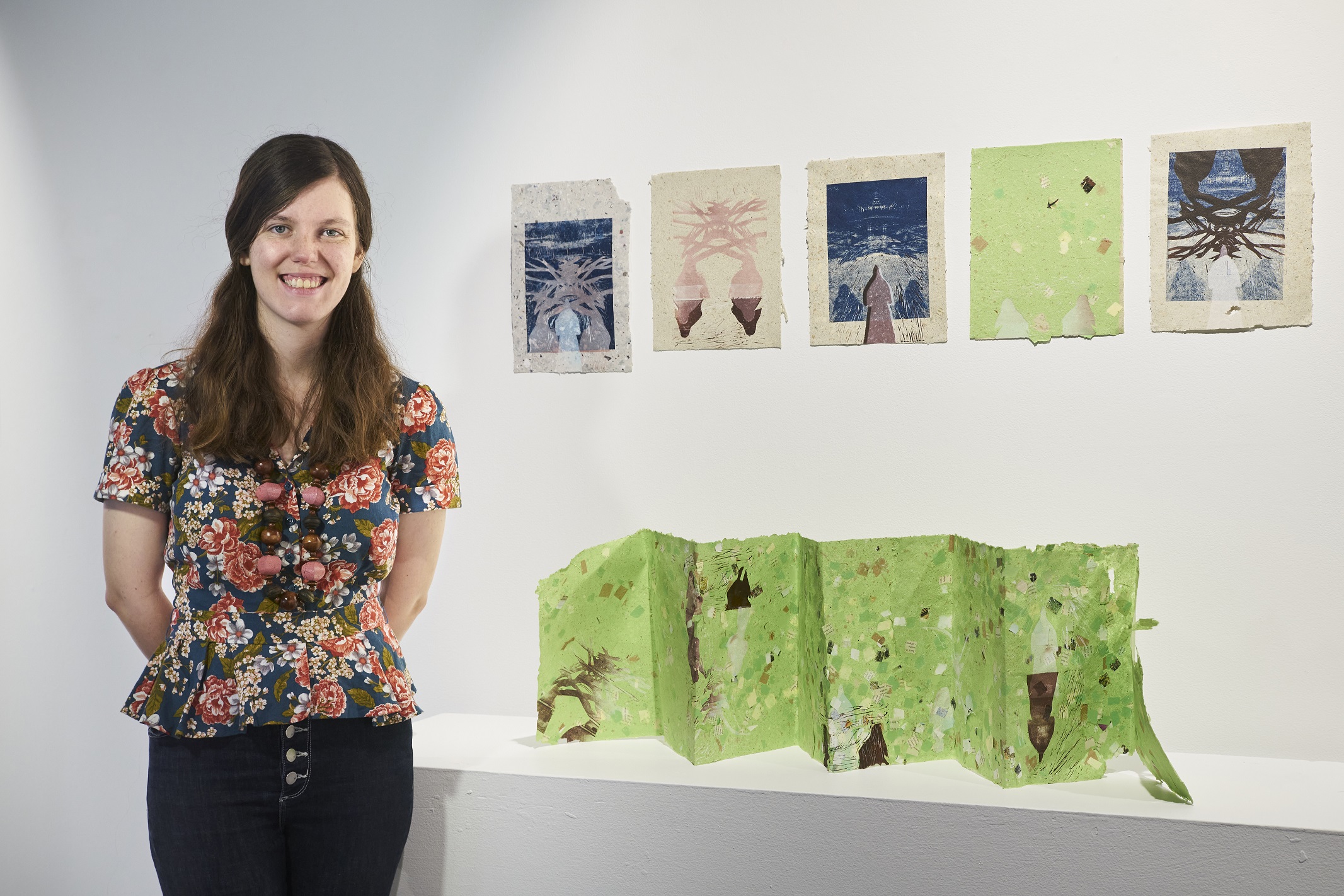 Composer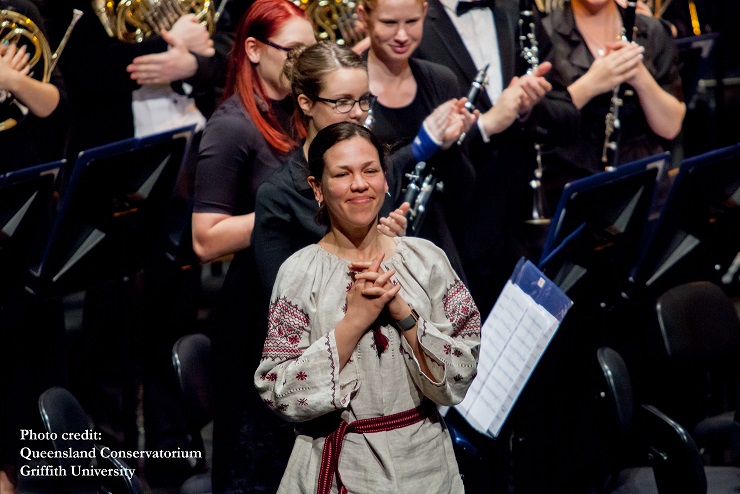 Catherine Likhuta
Catherine Likhuta is an Australian-based composer, pianist and recording artist. Her music exhibits high emotional charge, programmatic nature and rhythmic complexity. Her pieces have been played extensively around the world, including highly prestigious venues such as Carnegie Hall, Glyndebourne Opera House, the Midwest Clinic, six International Horn Symposiums and two World Saxophone Congresses. She is a two-time winner of the International Horn Society Composition Contest (virtuoso division) and a recipient of several awards, including two grants from the Australia Council for the Arts.
Catherine holds a five-year post-graduate degree in composition from the Tchaikovsky National Music Academy of Ukraine (Kyiv Conservatory) and a PhD in composition from the University of Queensland. She is an active performer, often playing her own music. She has performed as a soloist with the Cornell University Wind Ensemble and was the pianist on Adam Unsworth's CD Snapshots. Her works can be heard on Albany, Cala, Equilibrium and Summit Records.