"Despite all the conditions I have, the one thing I value most is my eye sight. I look back and feel I was playing Russian roulette. Until I faced losing my vision, I never really understood how much I had to lose."
QEI Clinic patient, Cheryl has faced a number of major crises in her life, but none quite as terrifying as the prospect of losing her sight. Aged 43, a machinery accident on her farm left Cheryl severely disabled, suffering from seizures and her independence was taken away. In 2013 her vision dramatically worsened and she went completely blind in her right eye within 36 hours. Her left eye was also at risk and she was diagnosed with an extremely rare disease, MOG-antibody-positive optic neuritis by QEI Clinic's Dr Anthony Pane.
Cheryl's right optic nerve was too far gone to save, however Dr Pane was able to recover some vision in her left eye. She was treated with high-dose intravenous steroids and then a new immune system suppressant treatment called Rituximab. Cheryl's left eye sight stopped decreasing, and stabilised.
Cheryl had to come to terms with the fact her life would never again be as it was before her accident. She had to cope with the breakdown of her marriage and suffered excruciating nerve pain from her injuries as well as constant seizures. Despite all of this, with the help of a full time carer, she somehow managed to move forward with her life.
Without any formal design training, she began to draw, the most intricately beautiful ink and pencil drawings, inspired by images that came to her during her seizures. Confined to a bed all the time and able to do little more than listen to audio books, Cheryl says her drawing became more than just a way of "staying sane", it also helped keep her mind off her terrible nerve pain.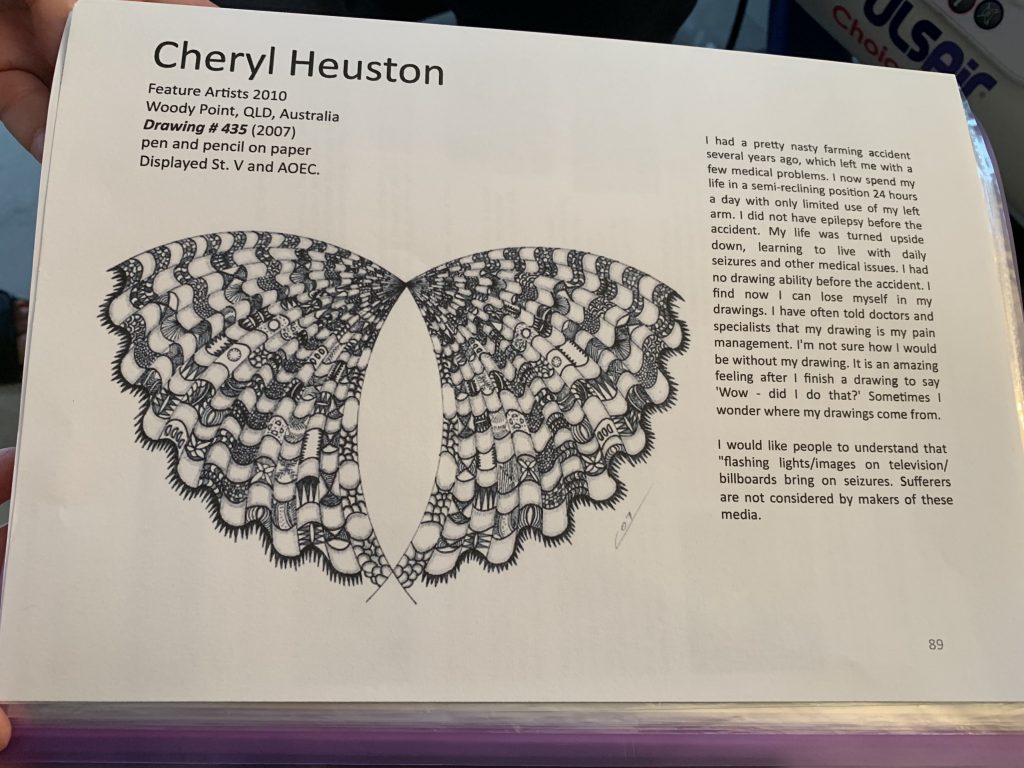 Cheryl's Last Seen is of the sunrise over the Redcliffe Peninsula that she sees every morning from her bed, and she thanks Dr Pane each day that she is able to experience the beauty of it.
Cheryl's Last Seen was painted by artist Gail Rutherford who is her dear friend and carer.