On Friday 27th January, the Queensland Eye Institute Foundation and Griffith University officially launched LAST SEEN 2023, a world-first creative showcase.
Joined by the Minister for the Arts, the Hon Leeanne Enoch and Chief Executive Officer of the Institute, Prof Mark Radford, artists unveiled their works for the first time to participants.
In an emotional and inspirational morning, the project participants mingled and previewed the ten works whilst hearing each other's powerful and humbling stories first-hand.
QEIF CEO Mark Radford said, "Our participants have compelling stories, with a poignancy that will resonate with us all. They make us stop and think what our last, most memorable vision of this world might be and how different it would be for us all without our sight."
The audience heard from young Oliver Fanshawe, diagnosed at nine with Peters Anomaly and the youngest recipient of a Seeing Eye Dog, to Santiago who at 25 is the CEO of two companies developing technology to improve accessibility of public transport for people with disability.
The Queensland Government supported Last Seen with funding through the Queensland Arts Showcase Program.
"This world-first creative showcase is an excellent example of how arts can play a key role in supporting important social and health-led outcomes," Minister Enoch said.
"Last Seen promises to be an inclusive and memorable arts experience featuring talented Queensland artists and sharing impactful stories."
It's the only known project of its kind in the world, where the memories form an art exhibition and performance. It is set to be one of the most a personal and emotional creative showcases this year, and it's only in Brisbane. The full exhibition opens in April.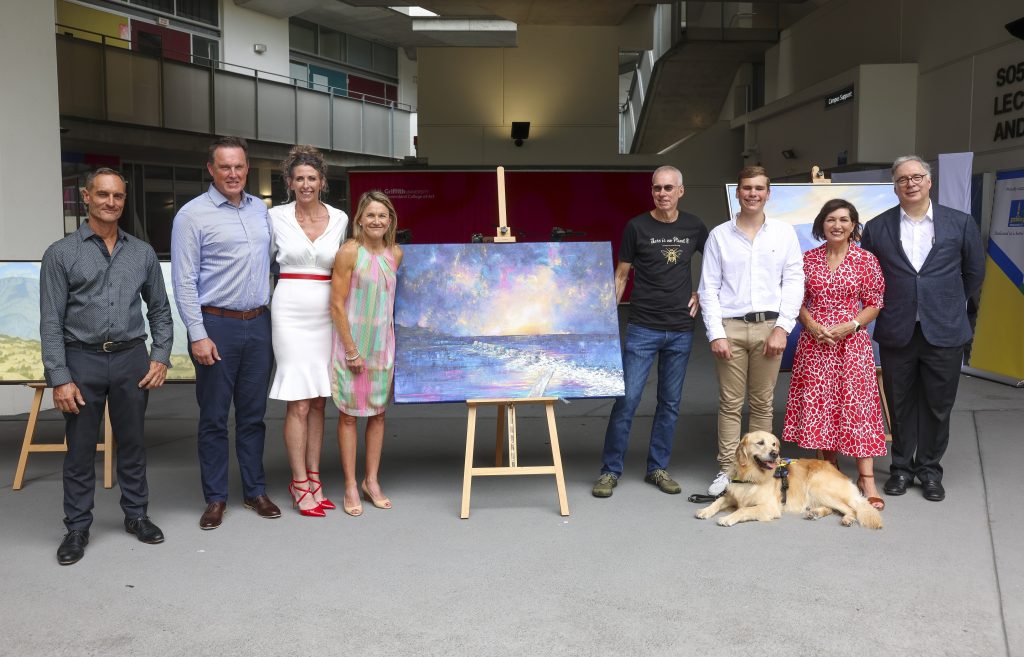 Group photo, left to right Robert Brownhall, Lorin Nicholson OAM, Tracie Eaton, Katie Kelly OAM PLY, painting Faith in the centre, Gary Myers, Oliver Fanshawe with Seeing Eye Dog Sadie in front, Hon Leeanne Enoch and Professor Mark Radford.
Katie Kelly OAM PLY is one of Australia's most distinguished, gold medalling Para-triathletes. Born with profound hearing loss, specialists did not diagnose her full condition Usher Syndrome until, at age 22, she started to lose her sight. Her last seen memory is the Merewether Baths in Newcastle.
The Artist – Tracie Eaton is an internationally renowned artist based on the Gold Coast. She's recognised by the Global Art Agency as one of the 'Leading & Investable Contemporary Artists' worldwide and had an exclusive 3-year commission to create artwork for the Oscars, with Brad Pitt, Leonardo DiCaprio, Bradley Cooper and Tom Hanks now owning her art.
16- year old Oliver Fanshawe is the youngest person in Australia to receive a Seeing Eye Dog, Sadie. He was diagnosed with the eye condition Peters Anomaly at just nine days old. A keen athlete – he toured India as a batter with the Australian squad at the 2022 T20 Blind Cricket World Cup and is also the national junior champion for blind tennis. His last memorable image is of the Grand Canyon.
The Artist – Gary Myer's art is immediately identifiable in Australia, with a deep connection to the outback landscape. He's held over 45 solo exhibitions and is shown in galleries across the country.
Lorin Nicholson OAM is a highly regarded international motivational speaker; he's also legally blind as a result of a genetic eye disease called retinitis pigmentosa which began when he was 4. He has an Order of Australia Medal, is an Australian of the Year nominee, a Queensland service award recipient and was Baton bearer for the 2018 Queens Batten Relay.
The Artist – Robert Brownhall is a famed realist painter, with a unique, quirky style and a birds-eye view of scenes, characterised by a strong connection to place.