Billed as a performance to save sight, the Last Seen concert on Friday 21st April left the audience gasping and applauding and fumbling for tissues, sometimes all at once.
The rousing event was the culmination of creative partnerships between the Queensland Eye Institute Foundation, Griffith University and Publicis Worldwide across the Queensland Conservatorium and Griffith Film School, with support from special guests the Voices of Birralee and Artistic Director Paul Holley OAM.
Featuring new music by established and emerging composers, the performances told the stories of 10 vision impaired Australians through music, voice, film and art, prompting the audience to consider – how would you feel if you lost your sight?
The event commenced with an unexpected bonus, as vision impaired and indigenous participant Alan Nemeth joined friend and artist Michael Connolly to support Assoc Prof Marcus Waters in a Welcome to Country. The trio met for the first time in the Conservatorium foyer, where they rehearsed a traditional welcome featuring didgeridoo and clapsticks.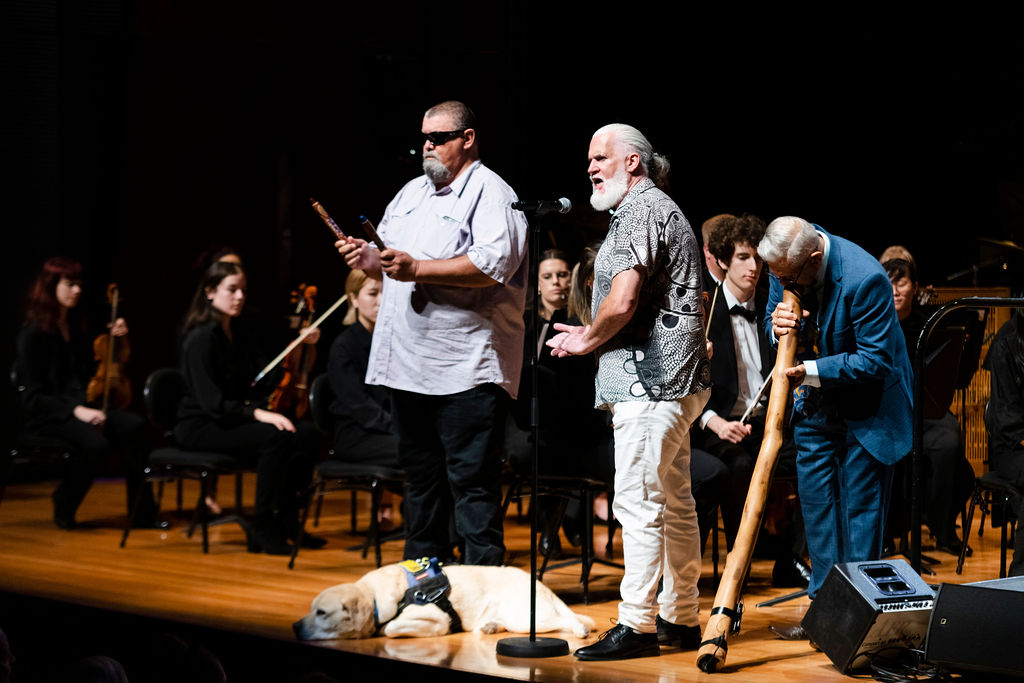 Conductor Peter Morris then led Conservatorium Symphony Orchestra and Choir, asking participants and composers to stand before each film and musical composition debuted. He noted the vision impaired participants had worked independently with the artists, composers and filmmakers to tell their stories. While the creatives never met to compare notes, somehow the music mirrored the artworks, which appeared, enlarged and zoomed in, on a giant screen above the stage.
The spinning wheels of Santiago Velasquez's bicycle, painted by Kathleen O'Hagan disappearing into a bright but unknown future, were captured in the rhythmic, cyclical composition by Catherine Likhuta.
Grammy nominated composer Tim Davies had the percussion section working overtime, bringing the sounds of Jane Britt's Christmas in Santorini, depicted in postcards on a canvas by Rick Everingham, to life.
Of course, synchronicity might be expected for those works written and performed by vision impaired participants themselves.
Jeff Usher's jazz piano piece in E Major, "one of my favourite keys", perfectly reflected the swish and sway of the lime green dress in Meredith Howse's artwork.
And the insistent, escalating strumming of Lorin Nicholson's guitar, supported by the orchestra's strings, brass and bagpipes, evoked the heart-thumping joy of scaling a mountain by pushbike then careening down the other side.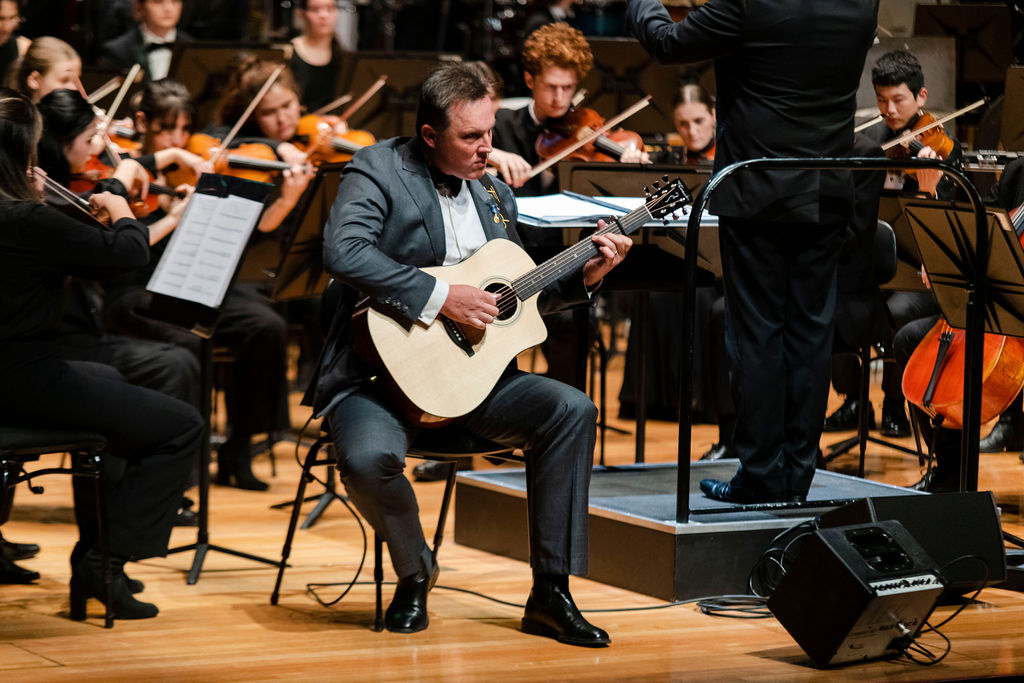 With 90% of all blindness or vision impairment preventable or treatable, and research into tomorrow's cures ongoing, QEIF hopes this collaboration with the arts community and Griffith University raises awareness of preventable eye disease.
Comments by the vision impaired participants at the heart of Last Seen, who shared their stories with generosity and candour, confirm the power of the arts to effect change.
"This has been profound," Jane Britt wrote. "Beyond my wildest expectations of what this would culminate to be when I started it.
"I was asked a few weeks ago during a radio interview, whether it had been confronting or painful. I said 'no' at the time. However, it was only upon hearing the language of music that my soul speaks, that I felt truly confronted," she wrote.
"I know the private memory becoming public, yet still mine completely, will ultimately help eye research to reduce avoidable vision loss."
All Last Seen artworks, films and soundscapes can be experienced at the Last Seen website here.
A gallery of images from the performance event can be viewed on QEI's Facebook page.
Last Seen was made possible through the generous support of Beyond Payments, Shand Taylor Lawyers, Inservio and Nine Queensland.
QEI's commitment to making Last Seen inclusive and accessible has been realised thanks to support from Arts Queensland, Brisbane City Council, Vision Australia, Southern Cross Austereo and TalkVia.